Hey Everybody,
Welcome to the Workshape.io blog!
We're going to be using this channel for the usual stuff like company news, product announcements and mea culpas for the fumbles that we're inevitably going to make along the way.
This is also the place where we are going to give our view on the state of tech recruitment industry and what the hell we all need to be doing about it. Most importantly, we're going to be using this blog to share with you what we're learning about the shape of technology work from the users who are already on Workshape.io.
I'm splitting the rest of this blog post into 3 parts: What We Do, Why We Are Doing It and How It Works. Then I'm going to ask you - all of you - to get involved to help us get better.
What We Do
We're a matching service where software engineers and employers can discover each other through being matched on their 'Workshapes' - visual representation of work, based on time distributed across universal software engineering tasks.
In plain English, we're converting your answer to the question - how do you want to spend your time? - into a graph which we match against those made by employers on the other side of the market.
There are no job ads, job applications, CV's or resumes - you create your Workshape and we'll get you your matches - its that simple.
Why We Are Doing It
Hiring is a hard problem and - consistently - a horrible experience.
For engineers it has become way too noisy - a skilled tech worker can routinely expect to receive dozens of recruitment related contact events every day. This overload in recruitment messaging is not only due to extraordinary demand, it's equally due to outdated practices that are overly focused on finding people and selling to them, and not nearly focused enough on trying to understand what those people actually want to do. The result is a huge amount of recruitment noise, most of which directed to people who don't want to hear it.
At Workshape.io, we're flipping that script. We believe we can create a high signal, zero noise recruitment marketplace. By matching based on what you want, we're cutting straight through the job ads, 'employer branding' pitches and sales speak from recruiters and founders alike. Instead, we get you to the signal - what the work actually looks like - within seconds of creating your Workshape
How it works
Step 1: Create Your Workshape
Use the scroll bars or the drag the points on the Workshape to tell us how you would like to spend your time across 10 universal activities in software engineering
Step 2: Complete Your Profile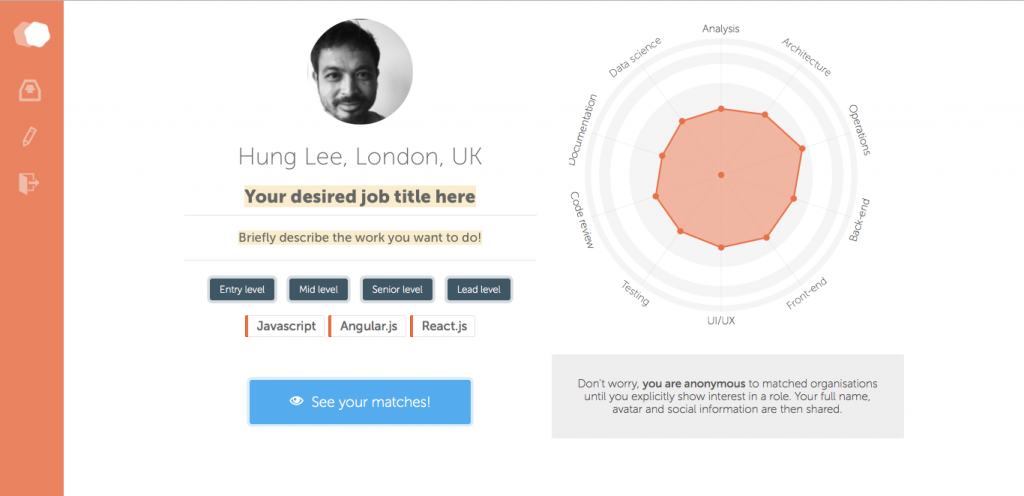 Fill in some bio information on important stuff like location, desired job title, seniority level and the technologies that you love to work with
Step 3: See Your Matches

Push the button and we'll match you against compatible opportunities created by our hand picked selection of tech Startups
Step 4: Review Your Match
Take a deeper dive into a matched result, review the company and opportunity, including where the Workshapes overlap - and where they don't.
Step 5: Get talking to interested employers straight away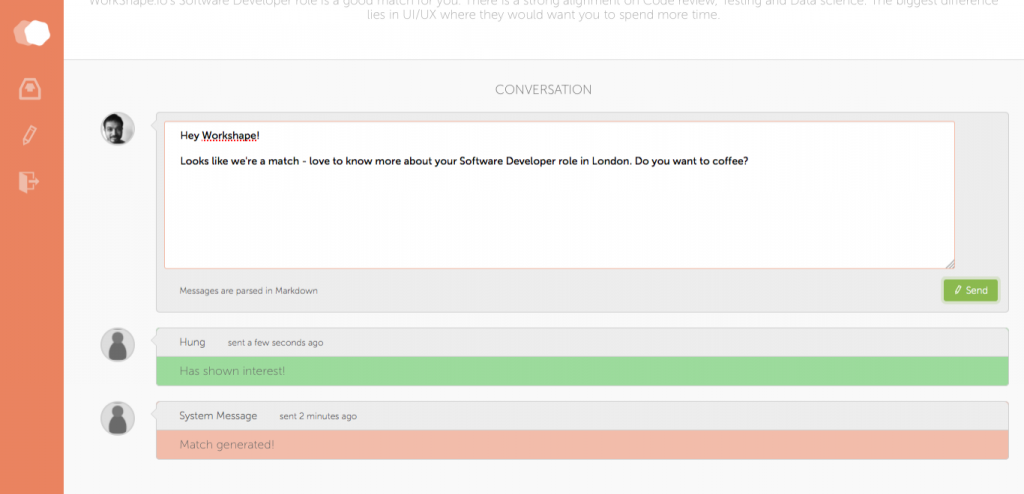 Unlock the chat feature and start talking to the interested employer straight away.
We want you!
At Workshape.io, its a core commitment of ours to make sure that we always track close to the needs of the community. We know we win if you guys love what we're doing and get value from it.
So we're going to continue to do Customer Development interviews, A/B testing and all that good stuff from the Lean Startup manual, but we want to take it even further, and invite you to come closer to our vision and directly contribute to the evolution of the product.
We're opening up our product roadmap. Start dialogue with others, submit feature requests to the team, connect with the engineers and maybe even vote on which features get built. We see ourselves as part of a community that wants to make hiring better. If you feel the same way, sign up and talk to us at Shape Workshape!
Finally, I want to thank everyone for supporting us so far. We're passionate about what we're doing and I hope you've had value from the work we have done so far.
We'll update this blog as we go. Take a minute to subscribe to our feed and make sure to follow us on Twitter
Happy New Year everyone - lets do this!
Hung, Gordon & Tanc